Trying to stack up the numbers when it comes to smart air conditioning systems can be difficult with so many options on the market. Whether you choose a zoning-only solution with no WiFi or a top-of-the-range integrated zoning and unit control solution, you'll definitely need to compare where your dollars are being spent.
Your Options
At the lower end of the market, with no WiFi and no airflow control, you'll probably be out of pocket around $480. Moving to a system that has WiFi will cost extra, but the benefits are worth the cost – such as being able to operate your unit from your mobile phone, adjusting airflow into each zone to save on energy costs, and setting personal desired temperatures in each zone. These systems can range from anywhere between $950 to $1,300, depending on the size of the screen. If you think that's a fairly steep jump between the two systems, you're not alone. The R&D team at iZone has been busy working on a mid-range solution to make smart air conditioning more affordable for the everyday Australian.
iZone Naked
Enter the iZone Naked Controller – a wireless integrated zoning and unit control solution giving full unit control of any of the world's major brands. The iZone Naked Controller has been designed to be used initially to set up and configure a ducted air conditioning system, prior to the installation of your home internet connection. Once your internet is up and running, the iZone Naked Controller acts as a backup if the internet goes down. At this point the controller is no longer required for day-to-day operation, instead, full control is possible via the iZone app.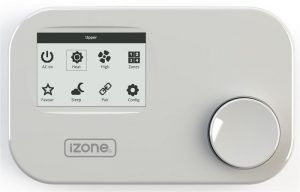 Coming in at around $600 with WiFi, airflow control for up to 6 zones, and everything else that their top-end Nano or Nexus can do, you'd be crazy to not have this on your shopping list. Scalability makes this even more appealing as users can add up to 14 zones and other optional add-ons like climate control and automation for a marginal cost.
Controller features
Features of the iZone Naked Controller include temperatures to within 1 degree, airflow control in 5% increments, and the ability to add iZone's home automation products like smart irrigation, smart lighting, power monitoring, garage door controllers, and much more. With the iZone Naked Controller, you simply use your own smart device to control everything in your home from anywhere, anytime.
The best feature of the iZone Naked Controller is the fact it requires no wiring making the installation simple and fast, and hidden from view. You can use it as a thermostat or controller in any zone or a backup controller if the internet is ever down. All this for less than half the price of a standard controller!
As an alternative to the more expensive fancy tablet controllers, the iZone Naked Controller is helping you reduce your overall air conditioning costs, making the smart home truly more affordable and accessible. That's a winner in anyone's books.